Wrike for Marketers (WfM) comes with robust pre-packaged functionality of your base Wrike Business or Enterprise plan and the Wrike Proof add-on.
Owners of Wrike for Marketers accounts can upgrade to the WfM Performance package, which includes the Wrike Integrate and Wrike Analyze add-ons.

⏱ 2.5 min read
Overview
Wrike for Marketers is ideal for marketing teams looking to streamline their workflows and keep better track of their work. With Wrike for Marketers, users:
get access to Wrike's advanced features,

gain functionality specifically designed for marketing teams

have more ways to receive, track, and report on their work

get access to approval workflow
More in-depth information regarding our marketing solution is available here.
How Wrike Works with a Marketing Workflow

We talked to marketing teams, learned the key processes teams go through as they do their work, and then built functionality to help you get more done.
Ideate and Plan

- use requests, tasks and projects to streamline your intake process, organize incoming work, and create an actionable timeline.

Create and Perfect

- work right from Photoshop and Illustrator and use Wrike's Adobe add-in to access and update work from Wrike.

Review and Approve

- use Wrike Proof to compare files and versions, add comments directly to file attachments, then begin the Approval process to get final confirmation that tasks and materials are ready to use.

Launch and Report

- complete your project and run reports to see: where work is coming from, how much work was completed, and who is doing what.
Features
Requests
Use requests to simplify your intake workflow, add structure to the request system, ensure that requests are added to the appropriate location, and decrease the chances that requests are lost.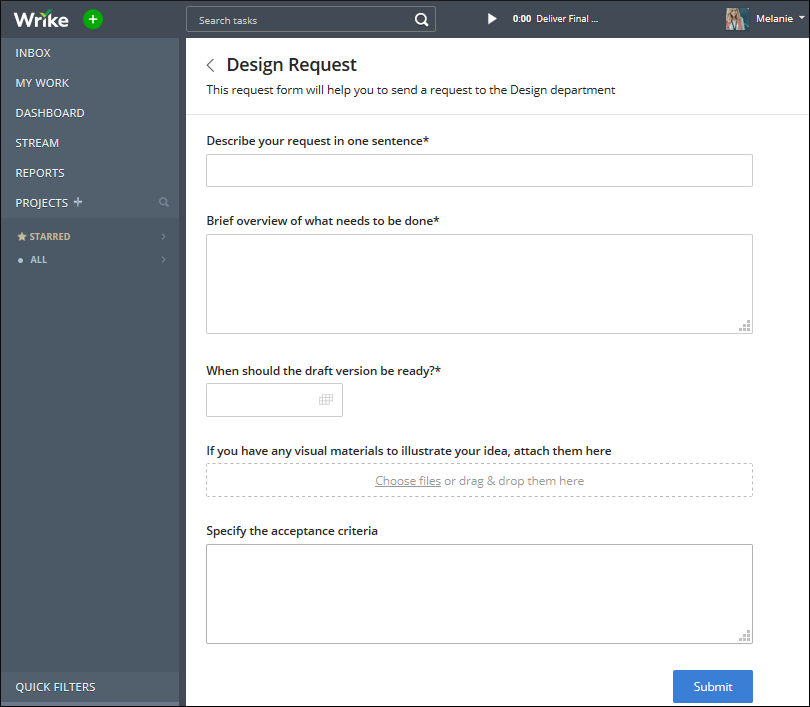 Wrike's Extension for Adobe® Creative Cloud®
Use Wrike's extension for Adobe® Creative Cloud® to work in Photoshop or Illustrator and: access Wrike tasks from Adobe, link images between Adobe and Wrike, and keep track of versioning.
Wrike Proof
Proofing allows you and your team to add comments directly to images, videos, .PDFs, Office files, and weblinks stored in Wrike. Use Proofing to discuss proposed files, get feedback from the rest of your team, compare files and file versions and keep track of what changes need to be made. Proofing helps you establish a structured review process. With Wrike Proof, you can assign teammates and external stakeholders as reviewers, see who has approved a file, or see who has marked any changes required.
Approvals
Approvals help you establish a structured review process and automate the process of decision making. With Approvals you can assign teammates as approvers for tasks, folders and projects, and files within them. Additionally you can assign external stakeholders as file reviewers. The Approvals process is transparent: you can see who has approved a file, who has decided that changes are required and why.
Wrike Publish
With Wrike Publish you can manage your digital assets without having to leave Wrike. Upload and download files to and from your DAM solution and discuss and approve your assets using Wrike Proof. Wrike Publish works both with MediaValet and Bynder.
Reports
Use Wrike Reports to create customizable reports and gain insights about the work your team has completed. The Report Builder helps you quickly create a new report based on the data that matters to your team. Reopen saved reports at any time to have them update with the most up-to-date data.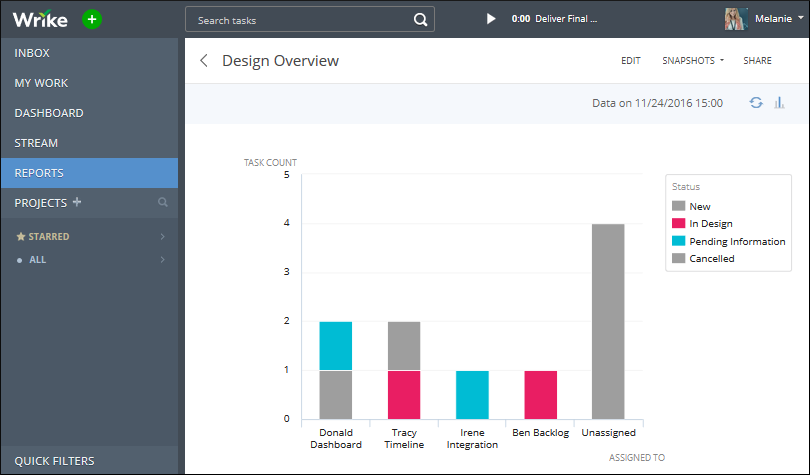 And More
The marketing solution also includes all the features available on either the Business or Enterprise solution.
Wrike for Marketers Performance
WfM Performance package is available for accounts with basic WfM package.
WfM Performance includes all the features of the basic WfM package described above along with two add-ons: Wrike Analyze and Wrike Integrate.
Wrike Analyze
Wrike Analyze is a fully customizable solution that allows you to create analytical dashboards based on data from your entire Wrike account. You can use any of the pre-built analytics templates or build a custom analytics board to focus on your industry-specific metrics. Get a bird's-eye view of your running projects, analyze your completed work, and easily share the interactive summary with stakeholders.
WfM Performance includes two 5 pre-built dashboard templates in Wrike Analyze, including Agile Velocity and Sprint Review templates, which provide information on your team's work and capacity during sprints. A pre-built dashboard showing revenue and risk assessments is a result of seamless integration between Wrike and the company's Salesforce stack, pulling sales-related KPIs directly into custom fields to give high-level data on the performance of every campaign and making campaign managers more effective.

Wrike Integrate
Wrike Integrate is a no-coding tool created to help you seamlessly integrate your Wrike account with more than 400 apps, solutions, and platforms. With this add-on, you can streamline your work processes and automate your company workflows by eliminating manual input for recurring tasks and projects. Use Wrike's extensive app directory to set up an integration or create a custom one.
As a part of the WfM Performance package, Wrike Integrate contains pre-built integration recipes for some of the most popular marketing systems and CRM platforms out there: Workato, Salesforce, etc. You can automate your work within Wrike with the help of recipes. This one, for example, creates a new sprint project each time the current sprint project is completed and moves all uncompleted tasks to the backlog.

Campaign Management Solution
Combining Wrike Analyze and Wrike Integrate powers Wrike for Marketers Performance and offers you an easy way to manage your campaigns.
In WfM Performance you can:
Set up an email campaign with three apps simultaneously. As soon as you finish all the preparation in Wrike, the campaign is created in Salesforce and approved files are moved from Wrike task to Marketo for further use.

Synchronize data from email templates between Wrike and Marketo.

Update data both in Salesforce and Wrike simultaneously (in just a couple of clicks) and track KPIs from Salesforce in Wrike's Table view.


Track revenue using Wrike Analyze dashboards.