Board View in Wrike
Table 25. Availability - Legacy plans
All accounts created after June 29th, 2022 have New Board view enabled by default. If your account was created after that date click here to learn about New Board view.
All users on all account types can use Board view.
The Board view shows a folder, project, or space's tasks organized in columns by status. Use the Board view to:
See what tasks you need to work on.

Track task status.

See how much time each task has been in its current status. 1

Change task status by dragging and dropping tasks from one column to another.

Create new tasks. 2
Note
If you prefer the Board view you can make it the default view for your project, folder, or space.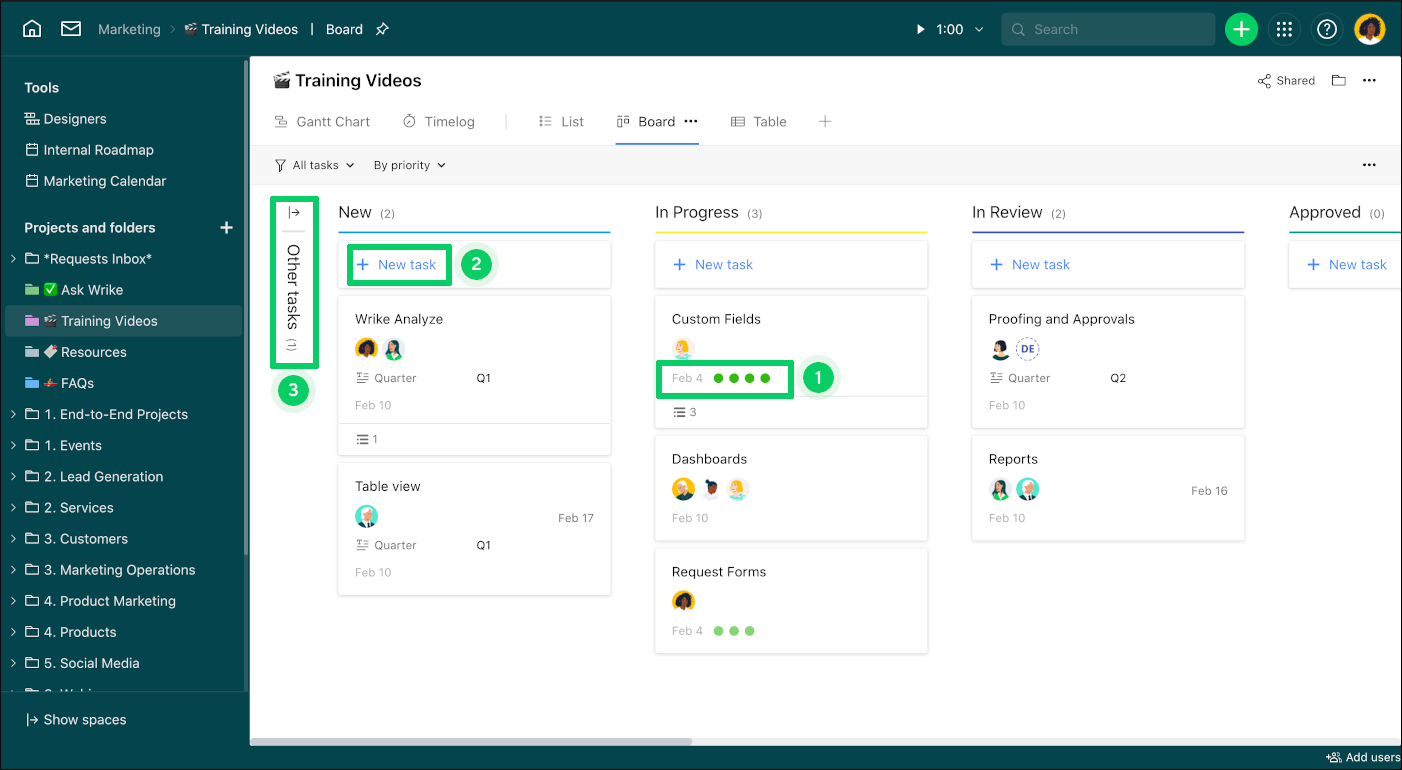 List, Table. Board, Gantt chart, and Files view can also be used to create custom views. A custom view is an editable view that you can choose to make public or private, name, and apply certain filters to as default.
To create a Custom view:
Navigate to the space, folder, or project where you want to create a custom view.

Click the + to the right of the view options and select Create custom view.

In the pop-up which opens, name your view, choose if it should be public or personal, and select from List, Board, Table, Gantt chart, and Files view. Click Create.

In your view you can set filters and save them as default. Set filters as you would normally, click the three-dot button next to the view name, and select Save.

You can also use this menu to revert filters to default, rename, duplicate, or copy a permalink to the view, set the view as default, and delete it.
The Board view works out of the box and comes with a few customization options. However, if you want to create a unique task list (based on something other than statuses), try dashboards.
For Business and Enterprise users:
You can see a customized Board view based on the custom workflow applied to the folder, project, or space.

If a task is in a workflow different from the one applied to that folder/project/space, it appears in the Other tasks column. The column is collapsed by default, but you can expand it by hovering over it and clicking the Expand icon. 3
Top