Calendars in Wrike and How to Navigate Them
Table 123. Availability - Legacy plans
Regular and external users can create calendars and calendar layers. Collaborators can view calendars shared with them.
Calendars help you keep track of what needs to be worked on and when. In Wrike, calendars consist of layers. Each layer displays tasks or projects according to filters and other parameters you set when you create them. You can add one or multiple layers to each calendar and set them to show different tasks and projects.
There are 2 types of layers in Wrike calendars, smart and classic. Learn how to create new layers here.
You can customize your calendar to display tasks from multiple calendars or layers at the same time. Check any combination of calendars and layers to display all their tasks on the grid. Calendars can be viewed by week or month for daily planning, and quarter or year to keep an eye on your roadmap.
Calendars display tasks from a location that you select when creating calendar layers. If you don't want to see some tasks on a calendar, you can filter them out in calendar layer settings. You can also manually add tasks to a calendar.
Getting to your calendar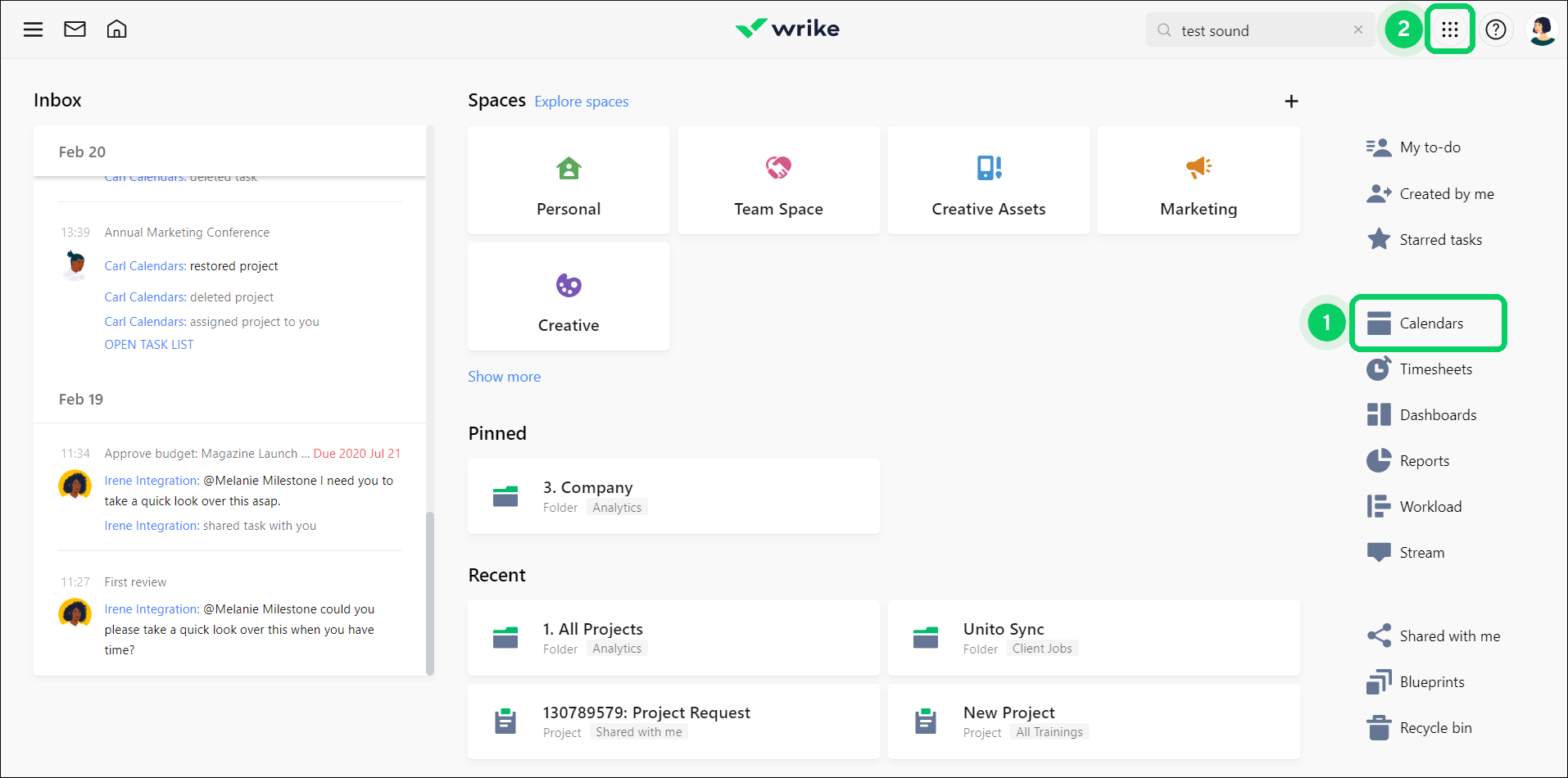 There are three ways to navigate to the calendar you want to view or work on. On your home page, you can simply select the Calendars tab 1 from the right menu. Or click the Launchpad icon 2 in the top navigation bar and select Calendars from there. Alternatively, if you are a member of a space, you can access calendars associated with that space from inside of it.
Apart from Calendars in Wrike, you can also find Calendar view. Despite similar names, their applications differ. Calendars are focused on a broader task and project overview. They're designed and best used for high-level, multi-source, program-level use cases. Use Calendars when:
You are a program lead, project lead, or high-level manager tracking multiple projects or campaigns.

You have a complex setup that needs to be organized in customized layers in different colors to help represent the chosen variables, such as sources or filters.

You need to hide or display multiple calendars at the same time.

You have multiple specific sources from which you'd like your calendar to pull information.

The tasks you want to display on the calendar are located in several folders or projects across different spaces, or you want to view tasks from multiple spaces at once.
To learn more about Calendar view and its application, visit Calendar View in Wrike.
Wrike calendars are laid out so you can display exactly what you need with a few clicks.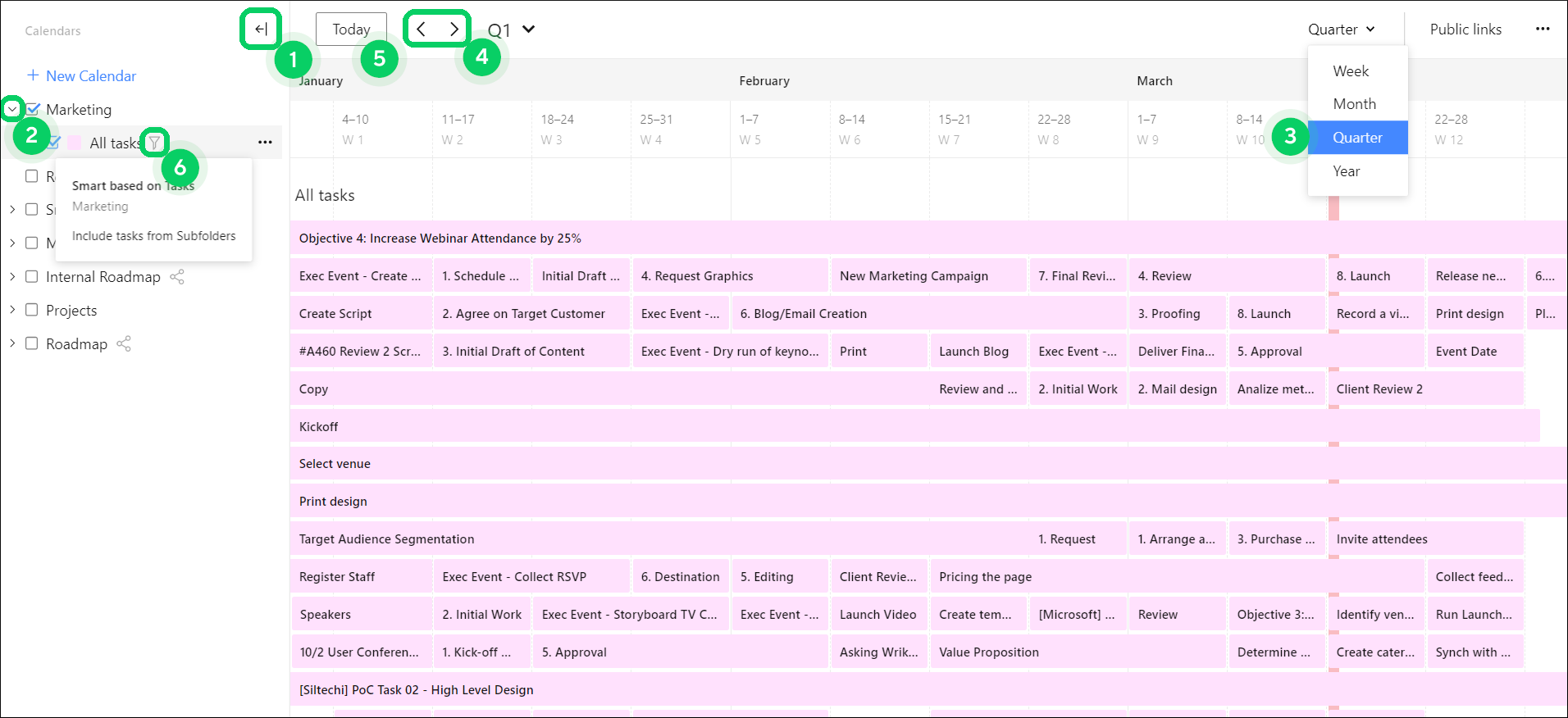 Collapse or expand the calendar panel
The left panel shows all available calendars (either created by you or shared with you) and all layers of those calendars. Click on the collapse/expand icon 1 to hide or show the list of calendars.
Collapse or expand calendars
Click on the caret icon 2 to the left of the calendar's name to collapse or expand the list of layers it contains.
Change the time frame
From the menu, select how to view your calendar: by week, month, quarter, or year. 3
Switch to a different month, year, quarter, or week
Click the caret icons 4 to the right of the Today button or use the left and right arrow keys on your keyboard.
Navigate back to the current time period
Click on the Today button. 5
Review settings of smart calendar layers
Hover over the funnel icon 6 to the right of a smart calendar layer title to review the settings and see which filters are applied to tasks or projects on this layer.
Open a project or a task in the overlay view
Click a bar representing a task or a project on the grid.
Find today's date in quarter or year views
The vertical red line on the grid indicates today's date.
Find weekends
Grayed-out days in week or month views and the vertical gray lines (which appear when you drag tasks and projects to reschedule them in quarter view) indicate weekends.
There's no limit to how many calendars and layers you can create. There's also no limit to how many calendars can be shared with you.
Top