Account owners on any type of account can transfer account ownership.
Overview
The account owner is an account admin, but with more rights and permissions. On the top of everything else account owners can:
View and edit billing information.
Access invoices.
See subscription info.
See the list of purchased add-ons and begin trials of new add-ons.
There are several reasons why account ownership might be transferred to another person:
The current account owner leaves the company or decides to switch job roles.
The person who started the trial and created the account is not the person who is responsible for IT or management in the company.
Ownership can be temporarily transferred to an accountant to perform a payment or update billing information.
Important Information
There can be only one account owner in Wrike.
Account ownership can be transferred only to an account admin or a regular user.
You can't transfer ownership to users who were invited to the account but haven't yet accepted the invitation, or to deactivated users.
Change Account Owner
Click on your profile picture in the upper right-hand corner of the workspace.
From the list that appears, select Account Management. 1
Select the Settings tab from the left-hand navigation panel. 2
Click "Change Account Owner" under Account owner.3
Next, a pop-up window will open where you are asked to:

Specify the user who is going to be the new account owner 4
Enter your password 5
If your account has SAML SSO enabled you will be asked to enter a 6 digit verification code sent to you via email instead of a password.

Click "Transfer account ownership". 6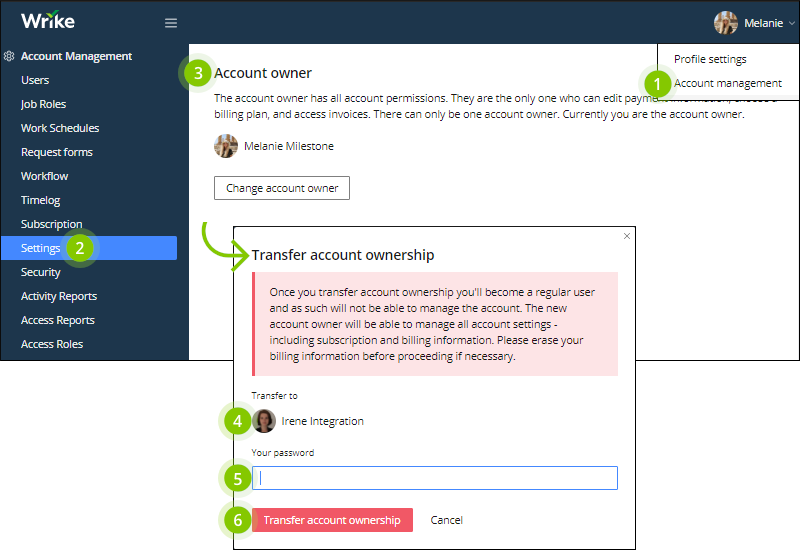 The new account owner will be notified via email. Your license type will be changed to a regular user.