Creating Reports
Table 153. Availability - Legacy plans
All account users except for collaborators and external users can create reports.
Note
On Enterprise accounts, the types of users who are allowed to use this functionality may differ due to user types settings.
You can create a report at any time to monitor various stages of your projects. Use any of the pre-defined report templates to create reports in seconds, or build a custom report from scratch.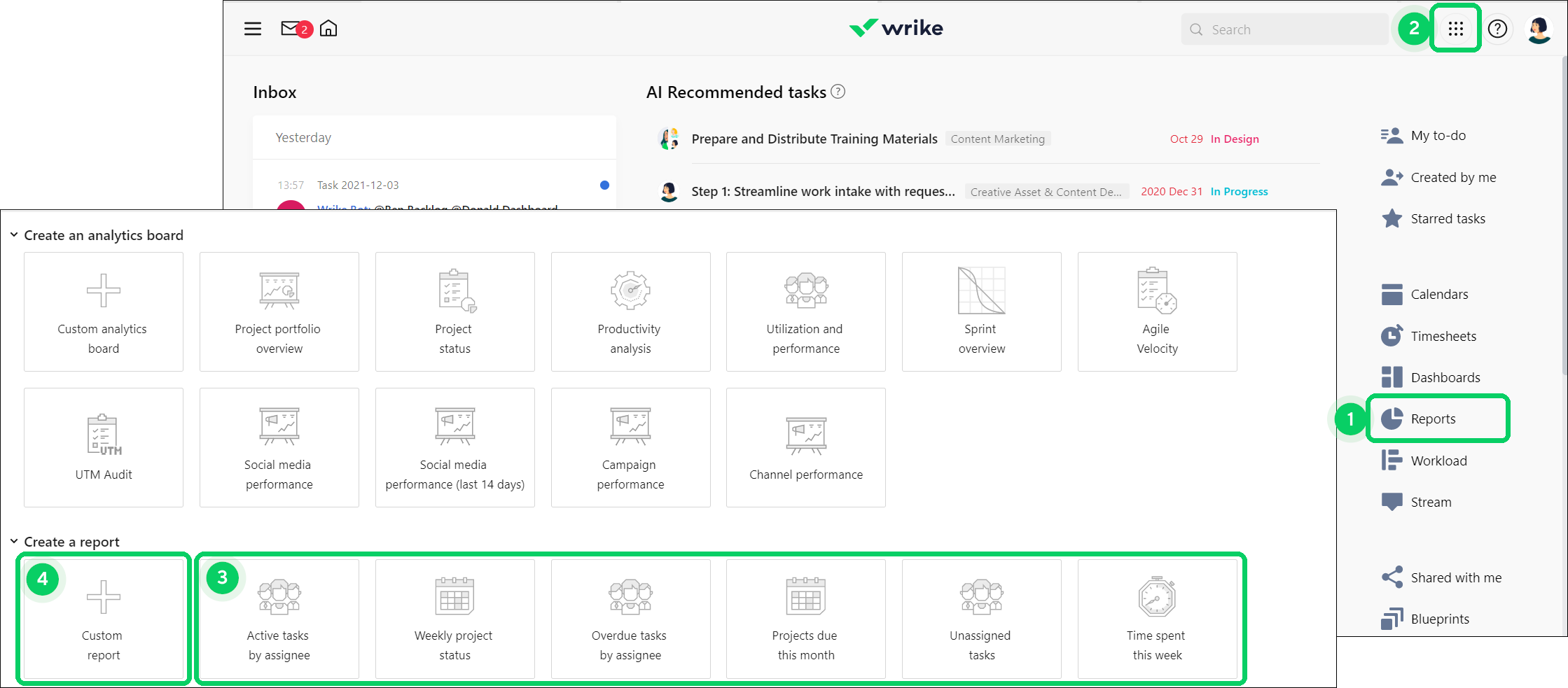 Navigate to the Reports section from your Home page 1 or via the Launchpad. 2

Select one of the templates 3 or click Custom report. 4

Set all the parameters of your report. For custom reports, the Report Builder will open.

Click Create.
You'll be taken to your new report, and it'll also be added to the top of the list of reports in the Reports section of your workspace.
Tip
You can leave the Report Builder or click Cancel in the Report Builder's upper-right corner at any point before saving to delete your report before it's created.
Wrike's Report Builder is made up of several panels that walk you through the process of creating a report.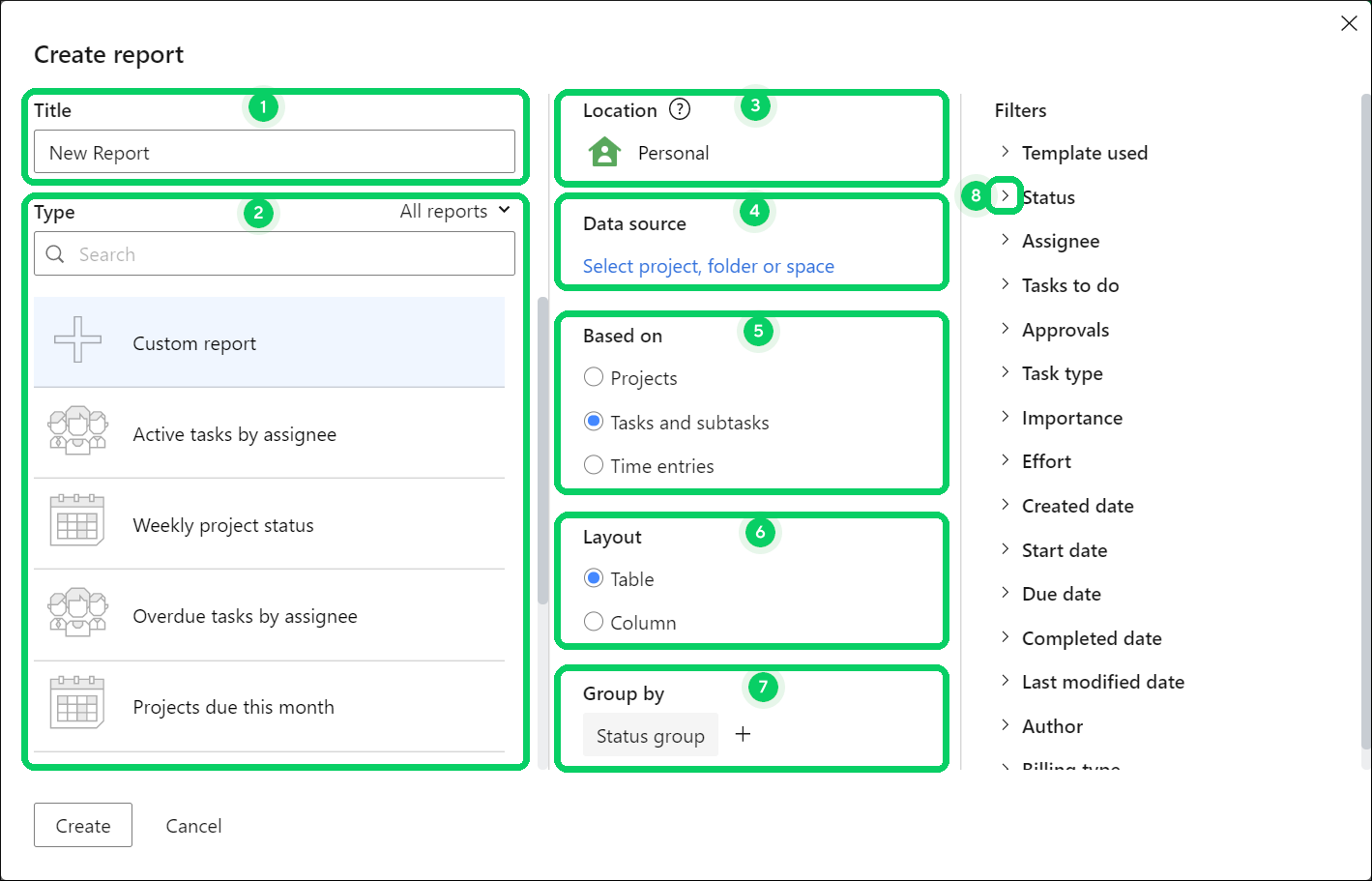 Title
Enter a name for your report in the Title field at the top of the Report Builder. 1 Make sure to name it something descriptive so you can easily find it in the Reports section.
Type
In this section, you can select and change the type of your report. 2 You can choose one of the available report templates or click Custom report to build it according to your specific criteria.
Use the search bar at the top of the section to look for a report template in the list.
Location
If you create a report from the Reports section of the workspace, it belongs to your Personal space by default and isn't shared with other users. If you create a report as a tool in a space, it belongs to that space and is shared with all space members.
You can change the space to which the report belongs in the Location section of the builder. 3
Data source
Click Select project, folder or space 4 and select a source location of the report data. To select more source folders, projects, or spaces, click the + button that appears next to the already selected ones.
Based on
Use this section to choose what you want to report on: projects, tasks, or time entries. 5 What you choose to report on dictates what data is included in your report.
Projects: include projects that match the criteria you designate in the Report Builder

Tasks and subtasks: include tasks that match the criteria you designate in the Report Builder

Note

Reports on tasks automatically include data from subtasks as well.

Time entries: include timelog entries that match the criteria you designate in the Report Builder
Layout
Use this tab to choose how you'd like to format your report: as a column chart or as a table chart. 6
Group by
Here, specify which groupings you'd like to add to your report. 7 Groupings dictate how data is organized on your report, but the exact way that groupings affect a report depends on the format you choose. To add a grouping:
Click the + next to grouping added by default under Group by.

Select a grouping from the list that appears.
To delete a grouping, hover over its name and click the X icon that appears to the right.
Note
When you create a report and want to add a grouping by custom field, the report creation dialog can only display up to 21 custom fields that are available and most relevant to you. If there are more custom fields available in the source location and you don't see the one required for the grouping, you can add it after creating the report using the Add grouping (or Group by:) button on the left of the report settings panel.
Filters
This step is optional, but adding filters allows you to decide what type of information you want to include in your report. Only tasks that meet the chosen filter criteria are included in your report. To add a filter:
Click the drop-down arrow to the left of a filter category. 8

Check the box next to a filter you'd like to apply.

Repeat this process with all filters you'd like to apply.
The type of filters you can add depends on whether you're reporting on tasks or projects.
| | | |
| --- | --- | --- |
| Projects | Tasks | Timelog entries |
| Project owner | Status | User |
| Status | Assigned to | Date |
| Start date | Tasks to do | Category |
| Finish date | Task type | |
| Project creator | Due date | |
| Created date | Start date | |
| Health | Completed date | |
| Progress | Last modified date | |
| Approvals | Created date | |
| + Custom fields | Author | |
| | Approvals | |
| | Reviews | |
| | + Custom fields | |
Note
You need to click the Add custom field button at the bottom of the filter panel to see custom fields and be able to apply them as filters.
Top