Editing Custom Workflows
Table 63. Availability - Legacy plans
Admins on Business and higher accounts can edit account-wide custom workflows. On Enterprise Standard and Pinnacle accounts this is a controlled admin permission, so some admins may not have it.
Space workflows can be edited by account admins of the corresponding space.
Note
Some options like add assignees or approvals upon status change can only be added to space workflows by space admins who also have account admin rights.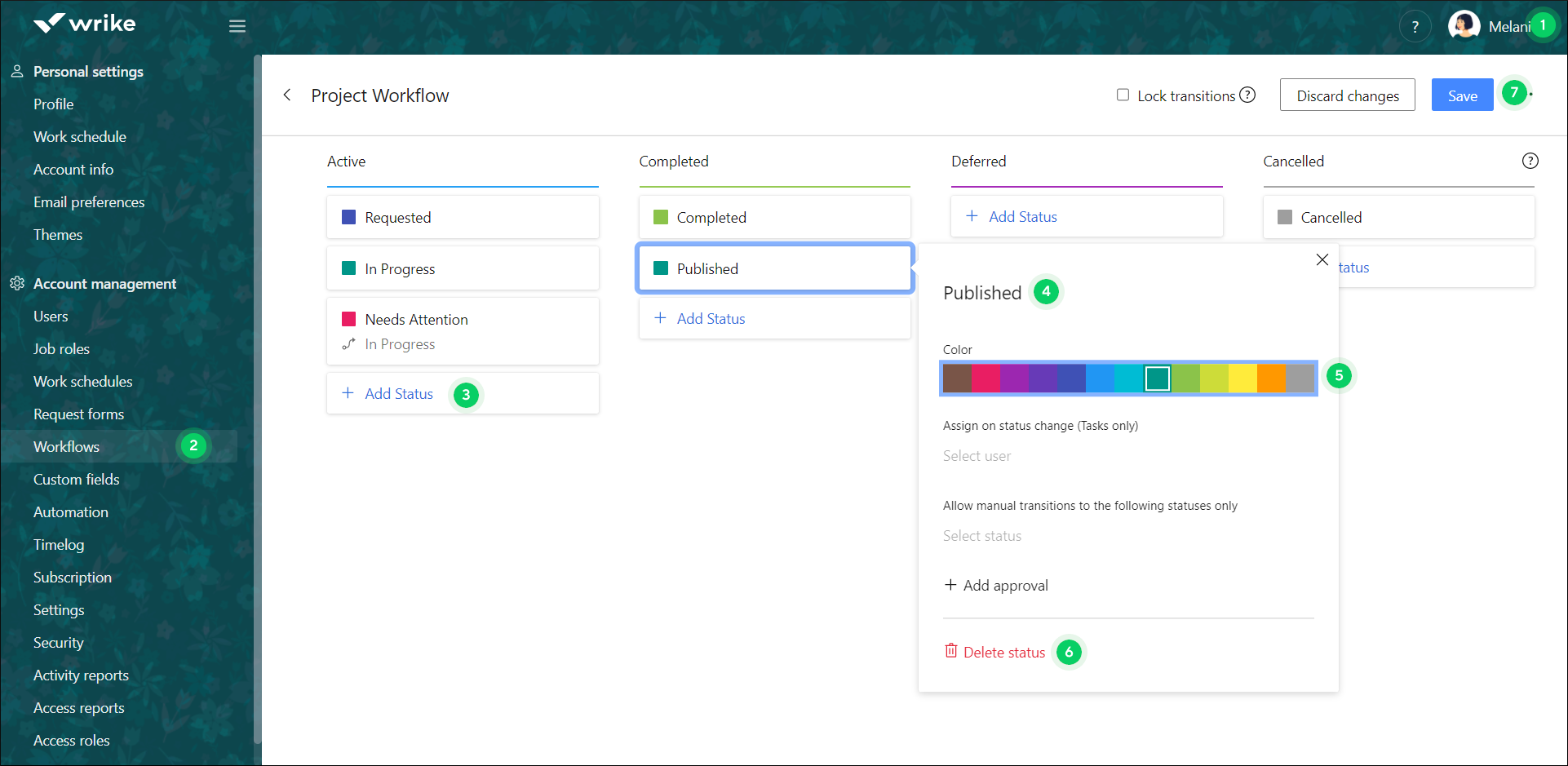 Click your profile image in the upper right-hand corner of your workspace 1.

Select Settings from the drop-down.

Click Workflow in the left-hand navigation panel. You'll see a list of all workflows on the account 2.

Click the title of a workflow you'd like to edit. If you don't see it, press Ctrl + F (or Cmd + F, if you're on a Mac), and search for it in the list.

Click + Add Status at the bottom of any status group to add a status to that section 3.

Click an existing status to rename it 14, change its color 5, or delete it 6. Tasks and projects that are currently in this status will have their appearance updated correspondingly.

Optional: click on a status to add transitions, approvals, or assignees upon status change.

Drag and drop statuses to arrange them within a status group in the order that makes the most sense for your team. The order you choose is the order that statuses will appear in a task's drop-down status menu.

Click Save in the upper right-hand corner 7.
Space admins can make changes to space workflows.
Open the space in which the workflow is located.

Click the gear icon in the upper right-hand corner of the workspace to open the space's settings.

Switch to the Workflows tab.

Hover over the workflow you would like to edit and click the pencil icon that appears.

From here you can edit the workflow as described in steps 5-8 above.

Click Done to save the changes.
Top