3 Types of Meetings That Can be Replaced by Wrike
Yes, we all have a too many meetings. If you're the one calling the shots, ask yourself:
"

Is it really necessary to meet this week?" 
"Are there any updates I don't already know about?" 
"Are there any action items that need to be announced to the team?" 
If any of those 3 questions can be answered by "No" then don't meet. But if you really do need a meeting, then consider using Wrike to replace three very specific kinds of meetings ... 
1. Brainstorming Meetings
In many cases, it's important to brainstorm face-to-face. Having that face time allows your team to bounce ideas off of each other and ask questions 
about
 goals and objectives.
However, brainstorming in person can lead to creative roadblocks such a
s
 groupthink and fear of judgement. If you're not following the 
rules of brainstorming
, then it might be easier and more effective to brainstorm individually. 
In Wrike, you can start a project and share the goals with your team immediately. From there, assign them to individual tasks and ask them to come up with as many ideas as they can on their own; without collaborating with each other. This allows people to think independently, without having others influence or intimidate them from sharing their ideas. 
I get it, you want to be updated on ongoing projects and tasks—and there are just too many to include in an email or over a chat channel. But, think of how much easier it would be to see all your ongoing projects AND their status in a simple click. 
That's what Wrike allows you to do. 
Simply set up a
Dashboard
 to view all your important projects and see wh
ere they stand.
 Using 
Custom Workflows
, your team is able to 
create
 a status category so that it's easy to quickly see the status of each project.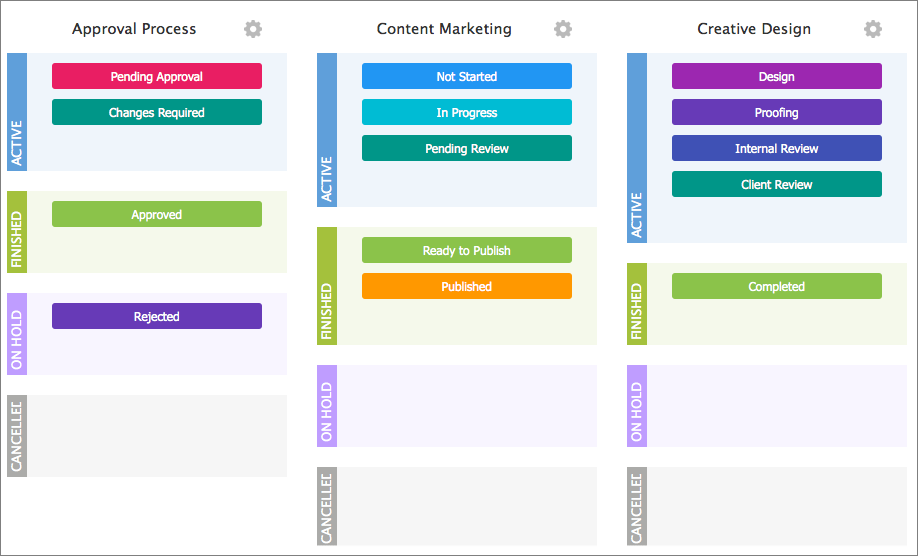 You can also build out your Dashboard to view projects by status. This is great for teams that work on a lot of similar projects that are attached to client approvals and deadlines. This way you can see all ongoing projects 
that are 
"in progress," "out for approval," "approved," and "completed" in a single place. 
The R&D team at 
Nanometrics
w
as
 able to
cut down time spent in meetings by 30 hours a week,
 freeing up more time to focus on pushing work through to completion. Since everyone can see task updates in Wrike, the meetings they do have are more focused on decision
making and problem
solving rather than just communicating project status updates.
3. Lessons Learned Meetings
Instead of having an open discussion, have everyone record their roadblocks and hiccups in a task, then share that task with the team. Have them share what they've learned and w
here processes can be
 improve
d
 for next time. 
Sharing lessons learned in a meeting is helpful, but not necessarily actionable. It's difficult to remember what to change in the future when everyone is recording them in different ways. Writing it down in Wrike allows you to create a universal way to archive lessons learned and make the takeaways actionable by having them easily accessible in the future. 
If you've tried any of the above, share your success story on how you replaced your meeting with Wrike!