Tags
If your workspace looks different, or if you can't follow the instructions described on this page you might have the New Wrike Experience enabled. Click here to find out more.
Regular and External Users on all account types can add tags.
⏱ 1 min read
Use Folders and Projects as tags 1 by adding a Task, Folder, or Project to another Folder or Project. Folder and Project tags appear to the right of a task's name on the List or Task View or under a Folder or Project's name on the Folder and Project info panels.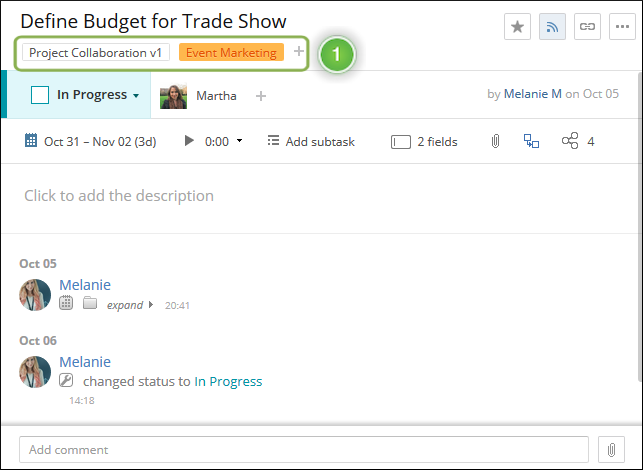 Tasks, Folders, and Projects are automatically shared with the users who have access to the Folder or Project where you add (tag) them.

Use mass editing to tag multiple tasks at once.
To add a tag to a task: add the task to a Project or Folder.
To add a tag to a Project or Folder: make the Project or Folder a Subfolder or Subproject of another Project or Folder.
Wrike Tip! When you add a tag to a task, use search to find the relevant folder or project.

If you have multiple folders and projects with the same name, use the "/" symbol to find the relevant one by its parent. For example, the search might look like this "Parent Folder/Relevant Folder."


Alternatively, paste the relevant folder or project permalink in the search field to find it.
Top